LAILA PENCE RECOGNIZED AS ONE OF BARRON'S 2021 TOP 100 INDEPENDENT FINANCIAL ADVISORS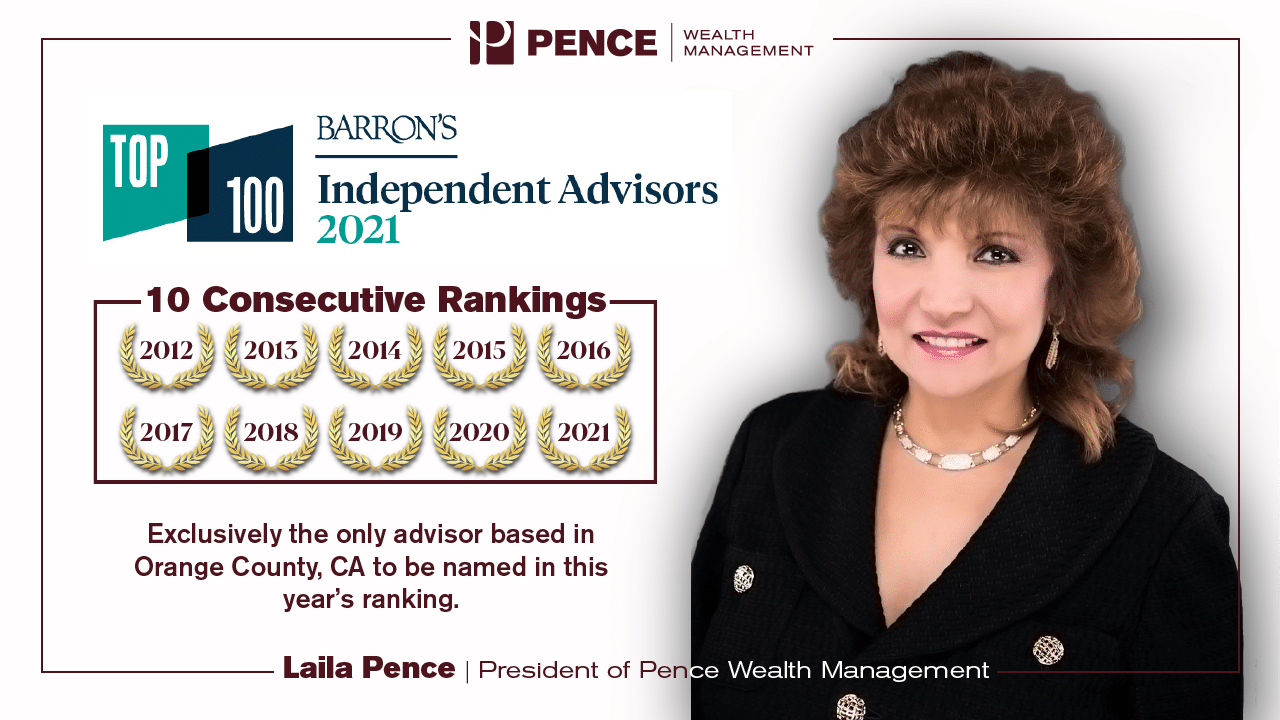 We are excited to announce that Barron's has included Laila Pence in the list of the 2021 Top 100 Independent Financial Advisors*. She is honored to receive this recognition from Barron's – a publisher covering U.S. financial information, market developments and relevant statistics. This will be Laila's 10th consecutive time to be included in the rankings since her first recognition in 2012*. Laila is exclusively the only advisor based in Orange County, CA named in this year's ranking. Our team would like to thank all our clients for their support.
The financial professionals at Pence Wealth Management are affiliated with LPL Financial, a leading** retail investment advisory firm, independent broker-dealer and registered investment advisor (RIA) custodian, providing resources, tools and technology that support advisors in their work to enrich their clients' financial lives.
*Barron's Top 100 Independent Financial Advisors (2017-2021) is based on assets under management, revenue produced for the firm, regulatory record, quality of practice and philanthropic work.
** Top RIA custodian (Cerulli Associates, 2019 U.S. RIA Marketplace Report); No. 1 Independent Broker-Dealer in the U.S (Based on total revenues, Financial Planning magazine June 1996-2020); No. 1 provider of third-party brokerage services to banks and credit unions (2019-2020 Kehrer Bielan Research & Consulting Annual TPM Report)
Laila Pence is a registered representative with and securities and advisory services offered through LPL Financial, a Registered Investment Advisor, Member FINRA/SIPC. Financial planning offered through Pence Wealth Management, a Registered Investment Advisor.
Pence Wealth Management ("PWM") is a sophisticated financial services practice within LPL Financial, LLC ("LPL Financial") comprised of multiple financial professionals that provide a series of services including personal investment advisory, third party managed advisory and brokerage services. Pence Wealth Management, Inc. is an investment adviser registered with the State of California to provide financial planning services. The financial professionals affiliated with PWM are registered with and offer securities and investment advisory services through LPL Financial, member FINRA/SIPC and a registered investment adviser. As of 4/1/21, the total assets serviced by PWM through LPL Financial consist of $1.7 billion in advisory assets and $300 million in brokerage assets.
LPL Financial, Barron's and Pence Wealth Management are all separate entities.