Daily Market Report | Oct. 22, 2020
US FINANCIAL MARKET
U.S. Stocks Edge Lower as Investors Eye Stimulus Talks – Wall Street Journal, 10/22/20
U.S. stocks slipped Thursday, with investors paying close attention to negotiations in Washington over a fresh stimulus bill.
Markets have been laser-focused on the prospect of a new wave of U.S. fiscal stimulus, even as the prospects of a deal being struck by House Democrats and Senate Republicans before the Nov. 3 election remain unclear.
The number of Americans applying for unemployment benefits fell to 787,000 last week, according to data from the Labor Department, a sign of a pickup in the market. Initial jobless claims had stabilized between 800,000 and 900,000 since late August, suggesting the summer's labor market improvement had cooled.
Europe has been struggling with a surge of new Covid-19 cases and fresh restrictions that threaten the region's economic rebound.
Investors will also be watching for any surprises when the president and Democratic nominee Joe Biden meet at 9 p.m. ET for the final debate before the election.
Among individual stocks, Tesla rose 3.1% after the electric-car maker reported its fifth consecutive quarter of profits after years of losses.
Shares of AT&T rose 5.1% after the telecommunications company reported a third-quarter loss that missed expectations but revenue that beat forecasts.
Coca-Cola's shares added 1.4% after third-quarter revenue beat expectations.
Shares of American Airlines slipped 2% following a third-quarter decline in revenue.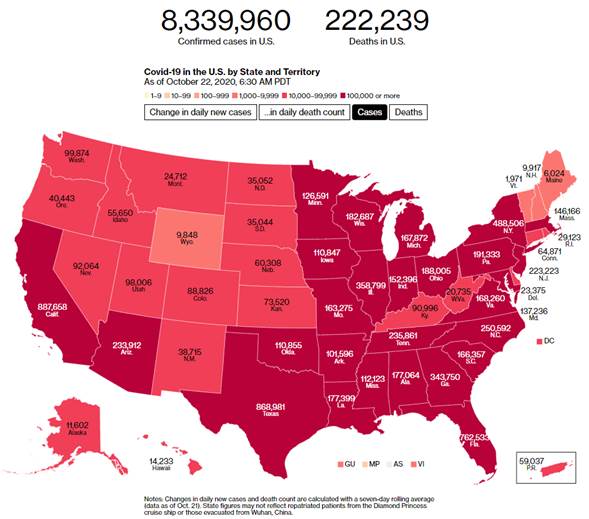 New U.S. Coronavirus Cases Surpass 60,000 for Second Day – Wall Street Journal, 10/22/20
The U.S. reported more than 60,000 new coronavirus cases for the second day in a row, as the spread continues to accelerate in most states.
The more than 62,000 cases reported Wednesday, according to data compiled by Johns Hopkins University, exceed the 60,315 reported on Tuesday.
The seven-day moving average of new cases, which smooths out irregularities in the data, was 59,527 nationwide as of Tuesday, and the 14-day average was 55,282, according to a Wall Street Journal analysis of Johns Hopkins Data.
The seven-day average was higher than the 14-day average in 42 states for the second day in a row on Tuesday.
The number of those hospitalized continued to rise Wednesday, hitting 40,271, the most since Aug. 21, according to the Covid Tracking Project.
Germany: The Robert Koch Institute for the first time reported new infections rising past 10,000 Thursday, hitting over 11,200 cases compared with over 7,500 the day before, as the infection spreads with cooler weather driving people indoors.
Poland: Poland reported more than 12,000 new infections Thursday, a new daily record, as it plans to unveil measures to slow the virus's spread.
Czech Republic: Health officials in Prague reported another one-day record rise in new infections, with new cases reaching nearly 15,000 on Wednesday.
New infections across the U.K., including Scotland, Wales and Northern Ireland, passed 26,600 on Wednesday—a new record.
Scotland's government said it would extend its current lockdown order on the densely-populated central belt until Nov. 2, when a new five-tier warning system will be introduced.
India: The world's second-worst-hit nation in terms of coronavirus cases after the U.S., added 55,839 infections on Thursday, pushing the total to 7.7 million.
Tesla Extended Profit Streak With Record Quarterly Sales  – Wall Street Journal, 10/21/20
Tesla extended its profitability streak in the third quarter and promised global production increases, in the latest sign the coronavirus pandemic has done little to dent Chief Executive Elon Musk's push to take electric vehicles mainstream.
Tesla posted a record $8.77 billion in revenue for the quarter, a 39% jump from a year ago.
Analysts surveyed by FactSet expected sales of $8.28 billion.
Earlier this month, Tesla reported record car sales for the third quarter, with 139,593 vehicle deliveries in the period, suggesting the target of 500,000 deliveries for the year was in reach.
The Silicon Valley car maker on Wednesday posted a net profit of $331 million for the three-month period ended Sept. 30. It marks Tesla's fifth-consecutive quarter in the black and keeps the company on track for 2020 to be the first calendar year of profitability after years of losses.
Tesla also revived a pre-pandemic target to build at least 500,000 vehicles this year, which Mr. Musk laid out in January, an increase of at least 36% from last year.
The company said it plans to spend an additional $2 billion to $2.5 billion on capital expenditures in 2021 and 2022.
AT&T takes pandemic hit, but surpasses revenue expectations – Reuters, 10/22/20
AT&T on Thursday reported the coronavirus pandemic had taken a heavy toll on its media business, but quarterly results were offset by stronger than expected gains in new phone subscribers lifted by offers for its HBO Max streaming service for free on certain phone plans.
Total revenue was $42.3 billion during the third quarter ended Sept. 30, exceeding the average analyst expectation of $41.59 billion, according to IBES data from Refinitiv.
WarnerMedia, the segment that contains HBO and the company's movie and TV studio, generated revenue of $7.5 billion, down from $8.4 billion in the year-ago quarter, as movie theaters largely remained shut in the U.S.
The company added 645,000 net new phone subscribers during the quarter who pay a recurring monthly bill. Analysts had expected AT&T to lose a net 9,000 customers, according to research firm FactSet.
The company added 357,000 net new fiber internet customers during the quarter, as demand for home internet increased with more Americans working from home during the pandemic.
Adjusted earnings per share were 76 cents, matching analyst expectations. The figure was down from 94 cents in the same quarter last year.
AT&T said it had 38 million subscribers in the United States for both its premium TV channel HBO and HBO Max during the third quarter, reaching its 2021 goal a year early, as more people sought out entertainment at home.
Southwest reports biggest ever quarterly loss on virus hit – Reuters, 10/22/20
Southwest Airlines reported a loss of more than $1 billion, its biggest ever, in the third quarter, while saying it would burn less cash in the months to come as leisure bookings show signs of recovery from this year's coronavirus-driven collapse.
Total operating revenue fell 68.2% to $1.79 billion.
The Dallas-based company reported a net loss of $1.16 billion, or $1.96 per share, in the third quarter ended Sept. 30, compared with a profit of $659 million, or $1.23 per share, a year earlier.
Southwest ended the second quarter with liquidity of $15.6 billion.
The airline forecast fourth-quarter average core cash burn of about $11 million per day, compared with $16 million per day in the third quarter and $23 million per day in the second.
Southwest, which is blocking middles seats for social distancing through November, said it would resume selling all available seats for travel from Dec. 1, referencing recent medical research about the coronavirus that shows the risk of breathing COVID-19 particles on an airplane "is virtually non-existent, with the combination of air filtration and face covering requirements."
American Airlines posts third straight quarterly loss – Reuters, 10/22/20
American Airlines Group reported a third straight quarterly loss on Thursday, hurt by a slump in travel globally due to the COVID-19 pandemic.
Total operating revenue fell to $3.17 billion from $11.91 billion.
The company posted a net loss of $2.40 billion, or $4.71 per share, in the third quarter ended Sept. 30, compared with a profit of $425 million, or 96 cents per share, a year earlier.
The company said its third-quarter cash burn rate was about $44 million per day, compared with about $58 million a day in the second quarter.
American Airlines ended the third quarter with $13.6 billion in available liquidity.
Xilinx forecasts current-quarter revenue largely above estimates – Reuters, 10/22/20
Xilinx forecast current-quarter revenue largely above Wall Street estimates on Wednesday, bolstered by rising sales of its chips to data centers, sending its shares up nearly 2% in extended trading.
Net revenue of Xilinx fell to $767 million from $833 million in the second quarter, still topping estimates of $755.1 million on the back of strength in the data center unit.
Xilinx's data center chip business grew 30% to about $107 million, but the company said that growth would have been lower if not for the impact of trade restrictions that sped up sales to a customer it did not name but that most analysts believe is Huawei Technologies.
Net income fell to $194 million, or 79 cents per share, in the quarter, from $227 million, or 89 cents per share, a year earlier.
The company said it expects third-quarter revenue of $750 million to $800 million, compared with analysts' average estimate of $772.3 million, according to IBES data from Refinitiv.
Xilinx also said it won a contract to supply networking cards to a major American cloud computing company.
It did not name the customer but said the contract will be worth $100 million per year by 2024.
Lam Research stock shaky as results, outlook top Street view – Marketwatch, 10/21/20
Lam Research shares fluctuated between gains and losses in the extended session Wednesday after the chip equipment maker's results and outlook topped Wall Street estimates.
Revenue rose to $3.18 billion from $2.17 billion in the year-ago quarter.
The company reported fiscal first-quarter net income of $823.5 million, or $5.59 a share, compared with $465.8 million, or $4.73 a share, in the year-ago period.
Analysts surveyed by FactSet had forecast earnings of $5.20 a share on revenue of $3.11 billion.
Lam expects adjusted fiscal second-quarter earnings of $5.20 to $6 a share on revenue of $3.1 billion to $3.5 billion, while analysts had forecast earnings of $5.16 a share on revenue of $3.08 billion.
PulteGroup profit beats estimates on strong demand for homes – Reuters, 10/22/20
U.S. homebuilder PulteGroup on Thursday reported a higher-than-expected quarterly profit, as record-low mortgage rates encouraged more Americans to buy homes, sending its shares up 2% in premarket trading.
Revenue rose 9% to $2.95 billion, ahead of analysts' expectations of $2.73 billion.
Pulte's sales rose 4% to 6,454 homes in the third quarter ended Sept. 30 from a year earlier, while orders, an indicator of future demand, jumped 36% to 8,202 homes.
The company said net income rose to $416.4 million, or $1.54 per share, from $273.1 million, or 99 cents per share.
Dow quarterly profit beats on demand recovery, cost cuts – Reuters, 10/22/20
Chemical maker Dow beat third-quarter profit expectations on Thursday, benefiting from cost cuts and a pickup in demand in several industries including consumer durables, construction and automotive.
Revenue came in at $9.71 billion, also beating estimates of $9.53 billion.
While overall volume declined 1% from the year-ago period, it rose 9% from the previous quarter, helped by increasing demand across furniture and bedding, appliances, packaging, construction and automotive end markets, Dow said.
However, restructuring-related charges pushed Dow to post a net loss of $25 million, or 4 cents per share, in the third quarter ended Sept. 30 compared with a profit of $333 million, or 45 cents per share, a year earlier.
The company had cut 6% of its global workforce and sold non-core businesses to bolster cash reserves by nearly a billion dollars to cope with the weak demand for its chemicals due to the pandemic.
Kinder Morgan profit falls as pandemic hits demand for refined products – Reuters, 10/21/20
U.S. pipeline operator Kinder Morgan reported a 10% drop in quarterly profit on Wednesday as a steep fall in energy demand due to the coronavirus crisis led to lower shipments of refined products and natural gas.
Kinder Morgan said earnings from its product pipelines, which move gasoline, jet fuel and diesel, fell 20% in the reported quarter.
Net profit available to the company fell to $455 million, or 20 cents per share, in the third quarter ended Sept. 30 from $506 million, or 22 cents per share, a year earlier.
The company also forecast fourth-quarter volume for refined products to be off by about 10% from a year earlier.
Whirlpool Strains to Meet Appliance Demand – Wall Street Journal, 10/22/20
Whirlpool said supply-chain disruptions are preventing it from making all the kitchen mixers, refrigerators and washing machines that Americans are ordering as they wait out the coronavirus pandemic at home.
In all, revenue rose 3.9% to $5.29 billion in its latest quarter.
The Benton Harbor, Mich.-based company said Wednesday that revenue in North America fell 1.6% due to coronavirus-related supply constraints in its third quarter.
The company posted a net income of $397 million, up from $358 million in the same quarter a year earlier.
For the full year, Whirlpool projected per-share earnings between $14.90 and $15.40.
In January, the company's outlook was at $14.80 to $15.80.
Whirlpool said it expects revenue, excluding currency fluctuations and a unit sale, to fall by 1% or less for 2020 as a whole. Three months ago, the company expected a decline of up to 12%, reflecting lower consumer spending at the outset of the pandemic.
Chipotle Books Record Sales from Online Orders – Wall Street Journal, 10/21/20
Chipotle Mexican Grill reported its largest-ever quarterly sales as online orders helped offset lost restaurant traffic during the coronavirus pandemic, though the shift created costs that are weighing on profit.
Revenue in the quarter was $1.6 billion.
The Newport Beach, Calif.-based burrito chain said Wednesday that same-store sales grew 8.3% in its third quarter over last year, exceeding the 7.3% increase analysts expected.
Digital transactions, which tripled, accounted for nearly half the company's revenue.
Chipotle's earnings, on net income of $80 million, were $2.82 a share, down from $3.47 during last year's period.
CSX quarterly profit down on lower coal, merchandise volume – Reuters, 10/21/20
U.S. railroad operator CSX reported a lower quarterly profit after cost controls failed to offset declining coal and merchandise volume.
Revenue fell 11% to $2.65 billion.
The Jacksonville, Florida-based company, considered one of the most efficient U.S. railroads, had third-quarter net earnings of $736 million, or 96 cents per share, down from $856 million, or $1.08 per share, a year earlier.
Union Pacific profit falls more than expected, shares down – Reuters, 10/22/20
Union Pacific on Thursday reported a bigger-than- expected drop in quarterly profit, after demand for e-commerce and beer shipments failed to offset weakness in coal and petroleum carloads, and shares fell 3.3%.
Total operating revenue fell 11% to $4.9 billion.
The Omaha, Nebraska-based railroad operator's third-quarter net income was $1.4 billion, or $2.01 per share, down from $1.6 billion, or $2.22 per share, a year earlier.
Analysts, on average, expected earnings of $2.06 per share and revenue of $4.96 billion, according to IBES data from Refinitiv.
Coca-Cola Expects Growth in China Even as Global Sales Slide – Wall Street Journal, 10/22/20
Coca-Cola said it expects to see growth this year in China, even as its global sales continue to decline because of the closures of restaurants, bars, movie theaters and sports stadiums elsewhere around the world.
Coca-Cola reported revenue of $8.65 billion in the quarter, a decline of 9% from a year earlier but an improvement over the second quarter, when its revenue fell by 28%.
The company's global sales volume declined 4% in the third quarter.
They also fell 4% in Asia, primarily because of coronavirus-related restrictions in India and Japan.
The beverage company said profit for the third quarter was $1.74 billion, or 40 cents a share. A year earlier, net income was $2.59 billion, or 61 cents a share.
Coca-Cola said Thursday that it plans to cut its 430 "master brands" by about half, to 200, accelerating a culling effort in response to the coronavirus pandemic.
Among the brands on the chopping block are Tab cola and Zico coconut water, The Wall Street Journal has reported.
Freeport-McMoRan profit beats on higher gold prices, cost curbs -Reuters, 10/22/20
Freeport McMoRan beat analysts' estimates for third-quarter profit on Thursday, as the miner benefited from higher gold prices due to the COVID-19 pandemic and cost cuts.
Revenue jumped 22% to $3.85 billion.
The average price that Freeport received for its gold surged nearly 28% to 1,902 per ounce in the third quarter, with copper and gold sales nearly 7% higher than the company's July estimates.
Total costs and expenses fell about 7% to $2.97 billion in the third quarter ended Sept. 30.
The company reported net income attributable to shareholders of $329 million, or 22 cents per share, compared to a net loss of $207 million, or 15 cents per share, a year earlier.
Senate Judiciary Committee Authorizes Subpoenas for Twitter and Facebook CEOs – Wall Street Journal, 10/22/20
The Senate Judiciary Committee authorized its chairman to issue subpoenas to the chief executives of Facebook and Twitter, after the companies limited sharing of New York Post articles regarding the son of Democratic presidential nominee Joe Biden.
The Republican-led panel voted 12-0 to authorize Chairman Lindsey Graham (R., S.C.) to issue subpoenas to Facebook's Mark Zuckerberg and Twitter's Jack Dorsey.
Twitter last week blocked users from posting links to the New York Post articles, initially citing a potential violation of its rules regarding hacked materials.
The company later said the articles also violated its policies on displaying private information like email addresses and phone numbers without a person's permission.
Twitter's move came after Facebook also limited the distribution of the articles on its platform, saying it was awaiting guidance from its third-party fact-checking partners.
US ECONOMY & POLITICS
U.S. Jobless Claims Fell to 787,000 Last Week – Wall Street Journal, 10/22/20
New applications for unemployment benefits this month fell to the lowest levels since the coronavirus pandemic shut many businesses in March, a sign of improvement for the U.S. economy.
Weekly initial claims for jobless benefits, a proxy for layoffs, fell by 55,000 to a seasonally adjusted 787,000 in the week ended Oct. 17, the Labor Department said Thursday.
Claims for the prior two weeks were revised lower, reflecting new data from California.
The number of people collecting unemployment benefits through regular state programs, which cover most workers, decreased by 1 million to about 8.4 million for the week ended Oct. 10, also the lowest since March.
However, it also reflects some long-term unemployed workers losing eligibility for such programs, which typically are capped at six months or less. A separate program offering extended benefits to those affected by the pandemic exceeded 3 million this month, the highest since the program started in March.
U.S. Existing-Home Sales Rose 9.4% in September – Wall Street Journal, 10/22/20
Sales of previously owned homes in the U.S. rose to a new 14-year high in September while robust demand and a shortage of homes for sale pushed house prices higher.
Existing-home sales rose 9.4% in September from August to a seasonally adjusted annual rate of 6.54 million, the highest rate since May 2006, the National Association of Realtors said Thursday.
The September sales marked a 20.9% increase from a year earlier.
The median existing-home price rose 14.8% from a year earlier to $311,800, a record high nominally and adjusted for inflation, NAR said.
There were 1.47 million homes for sale at the end of September, down 1.3% from August and 19.2% from September 2019, according to NAR. At the current sales pace, there was a 2.7-month supply of homes on the market at the end of September.
Coronavirus Stimulus Vote Could Come After Election Day, Negotiators Say – Wall Street Journal, 10/22/20
White House officials and House Speaker Nancy Pelosi opened the door to passing a coronavirus relief package after the election, a signal that time and political will has likely run out to enact legislation before then.
Mrs. Pelosi and Treasury Secretary Steven Mnuchin on Wednesday reported more progress on a potential $2 trillion aid agreement.
But even if they strike a deal before Nov. 3, legislation would face vanishing prospects of quickly becoming law, thanks to both the tight calendar and hardened opposition in the GOP-controlled Senate.
Punting a relief bill until after the presidential election would likely imperil its passage for months, since the election could change the political calculus.
If Democratic nominee Joe Biden wins the White House, Democrats would have an incentive to wait until he is in office, where then they would have increased leverage to push for a larger bill, with more Democratic policy provisions.
The dynamics are more uncertain if Mr. Trump wins re-election, but he is expected to be less motivated to strike an agreement without an election on the horizon.
Amy Coney Barrett's Nomination Advanced by Senate Judiciary Committee – Wall Street Journal, 10/22/20
The Senate Judiciary Committee advanced Amy Coney Barrett's nomination to the Supreme Court as Republicans unanimously voted to recommend that the full Senate approve her, paving the way for her confirmation next week.
The tally was 12-0. All 10 Democrats on the panel declined to appear at the proceedings to protest the Republican plan to fill the position just ahead of a presidential election.
The committee action clears the way for a full Senate vote that is expected on Monday. Senate Majority Leader Mitch McConnell (R., Ky.) is expected to take the rare step of keeping the chamber in session over the weekend in order to limit the opportunities for Democrats to delay the vote.
Iran Seeking to Intimidate U.S. Voters with Spoofed Emails, Intelligence Official Says – Wall Street Journal, 10/21/20
Iran is responsible for a barrage of emails sent to Americans that purported to be from a far-right group and were intended to intimidate voters and incite social unrest ahead of the presidential election, U.S. officials said.
The emails were sent to Democratic voters in several battleground states such as Florida and Pennsylvania and were intended to appear as though they were written by the far-right group the Proud Boys, according to people familiar with the matter.
Director of National Intelligence John Ratcliffe said at a Wednesday night announcement at FBI headquarters that Iran and Russia have both taken specific actions in an attempt to influence public opinion in the coming presidential election.
EUROPE & WORLD
British Airways warns of deepening travel slump as losses mount – Reuters, 10/21/20
British Airways owner IAG warned the travel slump from the coronavirus pandemic had deepened, forcing it to axe even more of its winter flying schedule after it reported on Thursday a quarterly loss of 1.3 billion euros ($1.54 billion).
The loss was far larger than the 920 million euros forecast by analysts, as passenger numbers plunged and it struggled to even half-fill its planes, illustrating the scale of the challenge faced by IAG's new boss, Luis Gallego, who took over in September.
IAG, which also operates Iberia and Vueling in Spain and Aer Lingus in Ireland, said that for the fourth quarter – which includes the normally busy Christmas period – it would fly no more than 30% of the capacity it flew a year earlier, lower than previous guidance of 40%.
With less flying ahead, the group warned it no longer expected to reach breakeven in terms of net cash flow from operations in the fourth quarter, but said that liquidity was strong.
LG Display swings to profit on new iPhone, says Huawei impact 'manageable' – Reuters, 10/22/20
South Korea's LG Display on Thursday reported a profit for July-September, ending a six-quarter run of loss, helped by shipments for Apple's new iPhone and stay-at-home trends boosting panel demand for TVs and laptops.
Revenue rose 16% to 6.7 trillion won, LG Display said in a regulatory filing.
LG Display posted a third-quarter operating profit of 164 billion won ($145 million) versus a loss of 437 billion a year earlier.
LG Display, which supplies mobile OLED panels for Apple's iPhone 12, said an expanded supply of mobile OLED panels to an identified strategic customer in North America, helped lift its earnings and it is using its full production capacity to respond to demand from the customer.
STMicro sees more sales growth in fourth-quarter despite Huawei ban – Reuters, 10/22/20
Franco-Italian chipmaker STMicroelectronics is expecting strong demand from the car and mobile phone industries to boost sales growth in the fourth quarter as it braces for a loss of revenue from China's Huawei.
The Geneva-based company said its gross margin for three months ended Sept. 30 was 36%, in-line with its own forecast.
STMicro said it was expecting fourth-quarter sales to grow by about 12% from the previous quarter to $2.99 billion and to generate a gross margin of about 38.5%, or two and a half percentage points higher than in the quarter that ended in September.
This forecast takes into account the loss of sales from Huawei, the world's biggest telecoms equipment maker, following new curbs imposed by U.S. authorities, which barred companies from supplying or servicing the company.
Sam Houston was inaugurated as the first president of the Republic of Texas. (1836)
West Germany joined the North Atlantic Treaty Organization (NATO). (1954)
President Kennedy announced an air and naval blockade of Cuba, following the discovery of Soviet missile bases on the island. (1962)
Content in this material is for general information only and not intended to provide specific advice or recommendations for any individual. Historical performance is no guarantee of future results. All indices are unmanaged and may not be invested into directly.
All investing involves risk including loss of principal. No strategy assures success or protects against loss. Any economic forecasts set forth may not develop as predicted.
All company names noted herein are for educational purposes only and not an indication of trading intent or a solicitation of their products or services.
Material presented is excerpts derived from third party content and you may need a subscription to access the full the content. The views and opinions expressed are those of the authors and do not necessarily reflect the views of Pence Wealth Management or LPL Financial.
Prior to making any investment decision please consult your financial advisor regarding your specific situation.