Daily Market Report | March 7, 2022
US FINANCIAL MARKET
Stocks Open Lower After Oil Hits $130 a Barrel – Wall Street Journal, 3/7/2022
U.S. stocks and global equity indexes dropped as the threat of a potential ban on Russian oil imports spurred a surge in energy prices that investors worry could smother economic growth, especially in Europe.
In individual stocks, Occidental Petroleum jumped nearly 3% after activist investor Carl Icahn exited his position, after years of campaigns.
Bed Bath & Beyond rose 76% after billionaire investor Ryan Cohen disclosed a 9.8% stake in the retailer.
The pan-continental Stoxx Europe 600 fell 0.1% Monday.
Germany's DAX stock index and Italy's FTSE MIB fell into bear market territory.
The war in Ukraine, now in its 12th day, has roiled commodity markets, increased tensions between Moscow and the West and led to Russia being unplugged from much of the global financial system.
Oil prices soared, with global benchmark Brent crude jumping 4.7% to $123.57 a barrel.
Earlier Monday, it topped $130, the highest level since July 2008.
The U.S. equivalent, West Texas Intermediate, rose 3.8% to $120.21.
The yield on the benchmark 10-year Treasury bond edged up to 1.770% Monday from 1.722% Friday, reversing direction after posting the biggest one-week decline since March 2020 last week.
The Russian ruble seesawed, tumbling over 10% against the dollar and reaching a new record low at 137 rubles to $1, before recouping losses and then dropping again.
Its stock market is closed and will remain so until at least Tuesday, according to Russia's central bank. It hasn't traded normally since Feb. 25.
Uber Raises Quarterly Guidance on Delivery Growth, Ridership Recovery – Reuters, 3/7/2022
The company raised its current-quarter guidance for adjusted earnings before interest, taxes, depreciation and amortization from between $100 million and $130 million to between $130 million and $150 million.
The increase in guidance is driven by improvement in the company's ride-hailing and delivery businesses, compared with the last quarter of 2021, when a rise in Covid-19 cases disrupted operations, Uber said.
Gross bookings for airports were up 50% at the end of February, compared with a month earlier.
Uber also said demand in its ride-hailing segment rose throughout February, with trips and gross bookings reaching 90% and 95%, respectively, of 2019 levels.
Chewy Co-Founder Ryan Cohen Takes Large Stake in Bed Bath & Beyond, Pushes for Changes – Wall Street Journal, 3/7/2022
Ryan Cohen, the billionaire co-founder of online pet-products retailer Chewy, has a big stake in Bed Bath & Beyond and is pushing the housewares retailer to streamline its strategy and explore strategic alternatives.
Mr. Cohen, who also serves as chairman of videogame retailer GameStop, owns a 9.8% stake in Bed Bath & Beyond through his investment firm, RC Ventures LLC, according to a copy of a letter sent to its board Sunday that was viewed by The WSJ.
He urges the company to take two main steps: narrow the focus of its turnaround plan and maintain the right inventory mix to meet demand, and explore a separation of the Buybuy Baby chain or a sale of the entire company.
He writes that given Buybuy Baby's growth trajectory, it could be worth several billion dollars.
He also writes that the entire company could be better off in the hands of a private-equity firm.
U.S. Treasurys Regain Favor – Wall Street Journal, 3/7/2022
Yields on U.S. government bonds, which fall when bond prices rise, dropped last week in two big bursts—early on when investors reacted to a nuclear threat from Russia President Vladimir Putin and then on Friday, after data showed a smaller-than-expected increase in workers' average hourly earnings.
Faced with persistent inflation and a shift in tone from Fed officials, investors in January and February went from predicting about three rate increases this year to seven or more.
The S&P 500 lost 1.3% last week. Investors also demanded higher yields to hold corporate bonds over Treasurys.
Still, Treasurys have been a bright spot, with the yield on the benchmark 10-year note logging its biggest weekly decline since March 2020 to end Friday at 1.722%, reflecting rising prices.
For all the destruction in Eastern Europe, recent data has suggested that the U.S. economy remains in good shape, with businesses adding jobs and cash-flush consumers continuing to spend large amounts on goods and services.
Rising energy prices—turbocharged by the isolation of Russia—could drag on growth. But economists argue that their impact could be limited because the U.S. itself is a major oil producer.
Treasury yields, notably, didn't decline steadily last week but rather swung sharply in what investors said was a clear sign that technical factors were at play.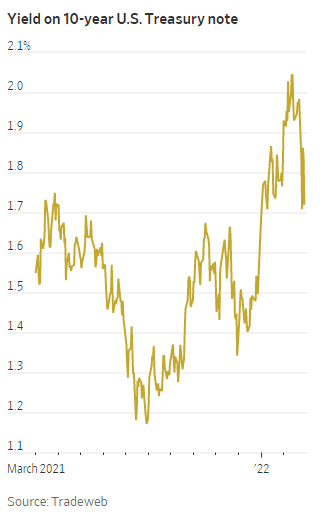 Boeing's Big Bet on Russian Titanium Includes Ties to Sanctioned Oligarch – Wall Street Journal, 3/7/2022
Boeing has suspended parts of its business in Russia, but it still has to deal with its relationship to a key titanium supplier led by a sanctioned oligarch who once worked in the KGB with President Vladimir Putin.
Boeing said it has halted purchasing Russian titanium since the country's invasion of Ukraine.
It also has closed its engineering offices in Moscow and Kyiv and stopped sending spare plane parts to Russian airlines.
But as other Western companies retreat from Russia, Boeing declined to say what it will do about its joint venture with the titanium supplier led by Mr. Putin's former intelligence colleague, Sergey Chemezov.
The titanium partnership began as an outgrowth of deepening East-West economic ties following the Soviet Union's collapse in 1991.
Boeing has been getting about a third of its titanium from Russia, with the rest coming from the U.S., Japan, China and Kazakhstan, a Boeing spokeswoman said.
A spokesman for the U.S. Commerce Department, which has imposed sweeping export controls on Russia, said the agency will "carefully review all license applications" for relevant joint ventures involving American companies and Russian partners to ensure they are "consistent with U.S. national security and foreign policy concerns."
U.S. gasoline prices soar to highest since 2008 on Russia conflict – Reuters, 3/6/2022
U.S. gasoline prices at the pump jumped 11% over the past week to the highest since late July 2008 as global sanctions cripple Russia's ability to export crude oil after its invasion of Ukraine, automobile club AAA said on Sunday.
AAA said average U.S. regular grade gasoline prices hit $4.009 per gallon on Sunday, up 11% from $3.604 a week ago and up 45% from $2.760 a year ago
The automobile club, which has data going back to 2000, said U.S. retail gasoline prices hit a record $4.114 a gallon on July 17, 2008, which was around the same time U.S. crude futures soared to a record $147.27 a barrel.
The most expensive gas in the country is in California at $5.288 a gallon, followed by Hawaii ($4.695), Nevada ($4.526) and Oregon ($4.466), according to AAA.
Gasoline price provider GasBuddy said the average price of U.S. gasoline spiked nearly 41 cents per gallon, topping $4 for the first time in almost 14 years, and stands just 10 cents below the all-time record of $4.103 per gallon.
U.S. crude futures soared more than 12% to $130.50 per barrel late Sunday, their highest since July 2008, as the United States and its European allies consider banning imports of Russian oil.
US ECONOMY & POLITICS
Ukraine, Covid-19 Aid at Stake as Talks on Omnibus Spending Bill Continue – Wall Street Journal, 3/6/2022
Congressional negotiators were rushing to complete the text of legislation funding the government beyond Friday, with the Biden administration's request for $10 billion in aid to Ukraine adding to pressure to meet a looming deadline.
With the interim law funding the government expiring at 12:01 a.m. on Saturday, and House Democrats set to be in Philadelphia starting Wednesday for a long-planned retreat, negotiators need to make progress quickly.
If Congress doesn't reach a deal, the government would partially shut down.
In another alternative, lawmakers could pass a new short-term resolution to fund the government at fiscal 2021 levels, continuing with last year's priorities.
The Biden administration's request for $22.5 billion—less than the $30 billion that had originally been floated—to deal with the coronavirus pandemic has been one of the complicating factors.
Some 35 Republicans, led by Sen. Mitt Romney (R., Utah), had said previously that they needed a full accounting of how the government has spent the more than $5 trillion already approved by Congress in several rounds of aid.
Blinken Says NATO Is Considering More Permanent Troops in Baltics – Wall Street Journal, 3/7/2022
NATO is "looking at questions of more permanent deployments," Mr. Blinken said on Monday in Lithuania, ahead of stops in Latvia and Estonia to assure allies there of U.S. support.
The visit comes as leaders in the Baltics are adding urgency to their calls for NATO to do more to help protect them over the long term.
The three Baltic states that were all once part of the Soviet Union and joined NATO in 2004 have been among the most outspoken in expressing their concerns over Mr. Putin's territorial ambitions and have repeatedly called on NATO to do more to safeguard their borders.
The U.S. had resisted stationing forces long-term in the Baltic states and in other NATO countries near the border with Russia to avoid antagonizing Moscow.
Now NATO is acting with haste, rushing military equipment to the region.
The U.S. has dispatched stealthy F-35 combat jets there, along with Apache attack helicopters, troops and other items.
Germany's contribution includes warships and vehicle-mounted cannons.
The U.K. has dispatched armored vehicles and other equipment, while other NATO members also have moved troops and hardware to the area to augment defenses.
U.S. Weighs Acting Sans Allies on Ban of Russian Oil Imports – Bloomberg, 3/6/2022
The Biden administration is considering whether to prohibit Russian oil imports into the U.S. without the participation of allies in Europe, at least initially, according to two people familiar with the matter.
The prospect of an oil import ban is helping drive crude to its highest levels since 2008, with futures trading up 2.4% at 8:51 a.m. Monday in New York. U.S. equity futures pared a decline.
Sunday, U.S. Secretary of State Antony Blinken said that the U.S. and its European allies were discussing a possible ban of Russian oil imports to tighten the economic squeeze on President Vladimir Putin over the war in Ukraine.
Russian oil made up about 3% of all the crude shipments that arrived in the U.S. last year, U.S. Energy Information Administration data show.
U.S. imports of Russian crude in 2022 have dropped to the slowest annual pace since 2017, according to the intelligence firm Kpler.
The U.S. imports about 700,000 barrels per day of Russian crude and petroleum products, including fuel oil, according to the Energy Information Administration.
It would be far more difficult to backfill a ban for Europe, which imports about 4 million barrels per day of Russian crude and refined products, according to Eurostat data.
EUROPE & WORLD
Russia Pummels Ukrainian Civilian Targets Ahead of Talks – Wall Street Journal, 3/7/2022
Continuing their encirclement operations on Ukrainian cities, Russian forces prevented civilians from escaping via humanitarian corridors and shelled urban centers in the country's north and south.
Russia's failure to capture major cities and its mounting loss of aircraft and armored vehicles have increased pressure on Moscow in a campaign that has drawn global ire and sanctions.
Ukrainian and Russian negotiators were entering their third round of talks on Monday afternoon in Belarus, according to Mikhail Podolyak, a Ukrainian presidential military adviser, with progress uncertain after earlier agreements to allow civilians to flee the fighting collapsed.
Foreign Minister Wang Yi of China, the most important global power to align itself with Russia, said Beijing would work with the international community to provide "necessary mediation" when required.
Russia's concentrated bombardment on civilian sites overnight in Kharkiv killed eight people and set more than 20 buildings ablaze, emergency services said.
With food supplies threatened across the country, Ukraine banned exports of staples such as rye, oats, buckwheat, salt and sugar.
Ukraine continued to muster international support. The U.K. announced a $100 million grant to backfill Ukrainian pensions and public-sector salaries, and the U.S. with Australia, Canada and New Zealand called on Interpol to suspend Russian membership.
Moscow says it will let Ukrainian civilians flee – to Russia – Reuters, 3/7/2022
Moscow said on Monday it would provide corridors for residents of Ukraine's two main cities to flee to Russia and Belarus, a move Ukraine called an immoral stunt to exploit the suffering of civilians under Russian bombardment.
Russian and Ukrainian delegations assembled for a third round of talks in Belarus, both sides said. Two previous rounds yielded little beyond pledges to open routes for humanitarian access that have yet to be successfully implemented.
Russia's announcement of "humanitarian corridors" came after two days of failed ceasefires to allow civilians to escape the besieged city of Mariupol, where hundreds of thousands are trapped without food and water, under relentless bombardment.
More than 1.7 million Ukrainians fleeing Russia's invasion have so far crossed into Central Europe, the United Nation's refugee agency said on Monday, as thousands more streamed in that direction.
About half were due to be evacuated on Sunday, but that effort was aborted for a second day when a ceasefire collapsed, with both sides accusing each other of shooting and shelling.
China to provide Ukraine humanitarian aid, praises Russia ties – Reuters, 3/7/2022
China's Red Cross will provide humanitarian aid to Ukraine "as soon as possible", Foreign Minister Wang Yi said on Monday, as he praised his country's friendship with Russia as "rock solid".
China has refused to condemn Russia's attack on Ukraine or call it an invasion while asking Western countries to respect Russia's "legitimate security concerns."
China proposes that "humanitarian action" must abide by the principles of neutrality and impartiality, and humanitarian issues should not be politicized, he added.
Wang said the friendship between China and Russia was "rock solid" and prospects for cooperation bright.
China's Covid-19 Cases Hit Highest Daily Total Since 2020 Wuhan Outbreak – Wall Street Journal, 3/7/2022
China's National Health Commission said Monday that it had detected 526 domestic infection cases, 214 of which were symptomatic, on the prior day, marking the single highest daily tally by either measure since the initial pandemic outbreak in the central Chinese city of Wuhan in early 2020.
Most of those who tested positive on Sunday were in the eastern port cities of Qingdao and Shanghai, with others detected in the southern province of Guangdong and the northeastern province of Jilin.
The flareup in Qingdao centers on middle-school students and teachers in Laixi county, accounting for most of Monday's 163 newly identified cases in the city.
All of them were found to have been infected with the highly virulent Omicron strain and were identified through mass testing of more than 3,000 people classified as close contacts of several infected students, according to data provided by local health authorities.
The roughly 60 new cases in northeastern Jilin were detected during a round of citywide mass testing, according to local media reports.
In Shanghai, almost all of the 48 cases identified there were travelers from Hong Kong who were undergoing a 14-day hotel quarantine.
China's Export Boom Eases, Raising Pressure for Stimulus – Wall Street Journal, 3/7/2022
Exports in January and February rose 16.3% in dollar terms from a year earlier to $544.7 billion, according to data from the General Administration of Customs.
While that beat expectations of a 15% gain among economists polled by The Wall Street Journal, it still marked a slowdown from the 20.9% year-over-year increase in December.
Imports grew 15.5% year over year to $428.7 billion, down from December's 19.5% increase and in line with the 15.4% predicted by the survey of economists.
Economists predict that China's trade surplus, which soared to $676 billion last year and has propelled the country's rapid rebound from the pandemic since 2020, will provide less support for its overall economy this year.
Factors that economists say may drag on export growth include the gradual reopening of other countries, reducing their reliance on China's supply chains, and an expected imminent rate increase by the U.S. Federal Reserve.
After expanding by 25% last year to reach a record $28.5 trillion, global trade growth is expected to slow during the first quarter of 2022, in part as more countries run down their pandemic stimulus packages, according to forecasts by the United Nations Conference on Trade and Development.
Alexander Graham Bell received a patent for the telephone. (1876)
Adolf Hitler broke the Treaty of Versailles and the Locarno Pact when he ordered troops to march into the Rhineland. (1936)
During World War II, U.S. troops crossed the bridge at Remagen, the first incursion into Germany by Allied forces. (1945)
DuriJohn R. Bolton was nominated by President Bush to be U.S. ambassador to the UN. (2005)
Content in this material is for general information only and not intended to provide specific advice or recommendations for any individual. Historical performance is no guarantee of future results. All indices are unmanaged and may not be invested into directly. All investing involves risk including loss of principal. No strategy assures success or protects against loss. Any economic forecasts set forth may not develop as predicted. All company names noted herein are for educational purposes only and not an indication of trading intent or a solicitation of their products or services. Material presented is excerpts derived from third party content and you may need a subscription to access the full the content. The views and opinions expressed are those of the authors and do not necessarily reflect the views of Pence Wealth Management or LPL Financial. Prior to making any investment decision please consult your financial advisor regarding your specific situation.