Daily Market Report | January 14, 2022
US FINANCIAL MARKET
Stocks Fall Amid Bank Earnings – Wall Street Journal, 1/14/2022
U.S. stocks fell Friday following lackluster earnings reports from some of the country's biggest banks and weaker-than-expected economic data, deepening a winter selloff.
All three major indexes opened Friday lower, briefly recovered from their early-session lows, then fell again. The S&P 500 was recently down 0.7%, while the Dow Jones Industrial Average was off 1%.
The tech-heavy Nasdaq Composite retreated from earlier gains, losing 0.5%.
The losses put all three indexes on track for another week of losses. The S&P 500 and Dow are down 1% and 1.2%, respectively, over the last five days, on pace for a second straight weekly decline. The Nasdaq, off 1.3%, is on track for its third consecutive week in the red.
Stock futures started heading lower before the market's open. JPMorgan Chase and Citigroup kicked off the latest quarterly earnings report season by disclosing double-digit percentage drops in profit ahead of the opening bell.
Shares of those banks started moving lower, followed by scores of other financial stocks.
That was followed by weak economic data, reigniting concerns about the economy's ability to fend off inflation and what that means for the Federal Reserve's fiscal-tightening plan. Retail sales dropped by 1.9% in December, while industrial production dipped slightly for the first time in three months.
Financial stocks broadly fell, shedding 1.4%. Shares of JPMorgan Chase slid 5.4%, and Citigroup dropped 2.3% after both banks posted declines in quarterly profit.
Wells Fargo added 4.2% after the bank reported that profit soared 86% in the final three months of 2021.
Manufacturers, material firms and consumer discretionary stocks were also down at least 1.2% following the economic data.
Besides that, Sherwin-Williams declined 3.7% after the paint maker lowered its guidance, citing a shortage of raw materials amid supply-chain and labor constraints.
Energy stocks jumped 1.4%, getting a fresh boost from a climb in oil prices.
Meanwhile, bond yields resumed their climb. Expectations for an interest-rate rise as soon as March have caused some investors to sell government bonds, pushing up yields. The yield on the benchmark 10-year Treasury note ticked up to 1.746% Friday, from 1.708% Thursday.
Overseas, the pan-continental Stoxx Europe 600 fell 0.9%. EDF's shares dropped 15.4% in Paris trading after France blocked the utility company from fully passing on soaring energy prices to consumers.
South Korea's central bank raised interest rates to pre-pandemic levels to fight inflation, and signaled that more increases could come this year. The country's benchmark Kospi index declined 1.4%.
Other major Asian stock indexes also closed lower. China's Shanghai Composite fell 1%, and Japan's Nikkei 225 shed 1.3%.
Supreme Court Blocks Biden's Shot-or-Test Rule for Workers – Bloomberg, 1/14/2022
A divided U.S. Supreme Court blocked the centerpiece of President Joe Biden's push to get more people vaccinated amid a Covid-19 surge, rejecting an Occupational Safety and Health Administration rule that would have required 80 million workers to get shots or periodic tests.
The court let a separate rule take effect requiring shots for workers in nursing homes, hospitals and other facilities that receive Medicare and Medicaid payments from the federal government.
"Although Congress has indisputably given OSHA the power to regulate occupational dangers, it has not given that agency the power to regulate public health more broadly," the court said in an unsigned opinion.
The court's three liberals — Justices Stephen Breyer, Elena Kagan and Sonia Sotomayor — dissented. The decision "stymies the federal government's ability to counter the unparalleled threat that COVID–19 poses to our nation's workers," they said in an unusual joint opinion.
As hospitals reel, California tells coronavirus-positive medical workers to stay on the job – Los Angeles Times, 1/14/2022
State officials are attempting to address California's staffing shortage through a sweeping policy change that allows asymptomatic healthcare workers who have tested positive for the coronavirus to return to work immediately.
The policy, set to remain in place through Feb. 1, is designed to keep many healthcare workers on the job at a time when hospitals are expecting more patients.
Some experts say California's stance is an unorthodox yet necessary solution to a difficult problem.
Yet many healthcare workers and community members say the policy is not only ill-advised, it's potentially dangerous.
JPMorgan's Quarterly Profit Drops 14% – Wall Street Journal, 1/14/2022
JPMorgan Chase's fourth-quarter profit fell 14%, the bank said Friday.
The slowdown in the fourth quarter didn't stop the bank from setting a record for annual profit.
The nation's biggest bank earned $48.3 billion in 2021, compared with the pre-pandemic high of $36.4 billion in 2019.
Revenue was roughly flat at $29.3 billion, compared with the $29.8 billion analysts had expected. Full-year revenue also hit a record, rising 1% to $121.6 billion, with the investment bank, commercial bank and asset and wealth management division all notching their best years ever.
In the corporate and investment bank, fourth-quarter revenue rose 2% to $11.5 billion. Surging investment banking fees more than offset a slowdown from the boom in trading revenue.
Fourth-quarter revenue in the consumer bank fell 4% to $12.3 billion.
Spending on credit cards rose 29% and card loans increased 7%. Mortgage originations rose 30%.
Net-interest margin, a measure of what the bank makes on loans minus what it pays on deposits, ticked up to 1.63% from 1.62% in the third quarter, the first increase since the pandemic began in 2020.
In asset and wealth management, revenue rose 16% to $4.47 billion and hit an annual high of $17 billion, as assets under management climbed and clients increased borrowing.
Loans increased from the prior year for both consumer and wholesale customers. Friday, JPMorgan said it was predicting single-digit loan growth in 2022.
Fourth-quarter profit was $10.4 billion, or $3.33 a share, better than Wall Street's expectation for $3.01 a share, according to FactSet.
Wells Fargo's Quarterly Profit Soars 86% – Wall Street Journal, 1/14/2022
Wells Fargo's profit soared 86% in the final three months of 2021.
The bank posted revenue of $20.86 billion, up 13% from a year ago. That beat expectations of $18.79 billion.
Wells Fargo's net interest income, a measure of lending profit, fell 1% to $9.26 billion.
Outstanding loans rose 1% from a year ago and 4% from the third quarter.
The lender reported $48.1 billion in mortgage originations in the fourth quarter, down from $53.9 billion the same time a year ago.
Noninterest income rose 27%. The bank made money on the sale of its corporate trust and asset management businesses.
Noninterest expenses in the fourth quarter totaled $13.2 billion, down 11% from a year earlier.
The San Francisco-based bank said Friday that it made $5.75 billion in the fourth quarter, up from $3.09 billion a year earlier.
Per-share profit totaled $1.38, above analyst estimates of $1.11.
The bank released $875 million it had set aside to cover pandemic loan losses that didn't materialize.
Citigroup's Quarterly Profit Falls 26% – Wall Street Journal, 1/14/2022
Citigroup's fourth-quarter profit fell 26%, the bank said Friday.
Revenue rose 1% to $17 billion, better than the $16.8 billion analysts had forecast.
Revenue in the institutional clients group rose 4% to $9.9 billion.
Trading revenue fell 17% in the quarter.
Investment banking fees from advising companies on mergers, and underwriting stock and debt sales, rose 43%.
On the consumer side, revenue fell 6% to $6.9 billion and profit fell 42%, hurt by low interest rates and the restructuring expenses.
Spending on Citigroup credit cards rose 20%. But customers continued to pay off the charges, and card loans fell 1%.
Citigroup's lending profitability slipped again, with its net interest margin ticking down to 1.98% from 1.99% last quarter.
The bank posted net income of $3.2 billion, or $1.46 a share, beating analyst expectations for $1.39 a share, according to FactSet.
The bank released another $1.4 billion from reserves it had built for potential loan losses, boosting the bottom line in the quarter.
In total for the year, the bank released almost $5 billion, after setting aside $17.5 billion in 2020, a swing that powered the big profit gain for the year.
BlackRock Now Manages Over $10 Trillion in Assets – Wall Street Journal, 1/14/2022
BlackRock posted higher quarterly profit, and market gains lifted the investment firm's assets under management above $10 trillion.
Revenue rose 14% to $5.11 billion. Analysts polled by S&P Global Market Intelligence predicted $5.15 billion.
The money manager reported net income of $1.64 billion, or $10.63 a share, in the fourth quarter, up 6% from $1.55 billion, or $10.02, in the same period a year earlier.
BlackRock finished the year with $10.01 trillion in assets, as investment gains and new client money vaulted the firm past the milestone. The stock market's decadelong rally, and investors' appetite for low-cost funds that track market indexes, have fueled the firm's growth.
In the fourth quarter, though, BlackRock benefited from strong inflows into its actively managed investments.
Active funds brought in nearly half of the $211.7 billion in net new client money the firm added in the period.
For the year, BlackRock earned $5.9 billion, or $38.22 a share, on revenue of $19.37 billion.
Ford at $100 Billion Joins Rare Club With Market Cap Below Sales – Bloomberg, 1/13/2022
Ford Motor's rally to top $100 billion in market value places it in an odd group: that of companies that are worth less than what they generate in sales.
Ford market cap breached the $100 billion milestone earlier on Thursday after a rally pushed the stock to a 20-year high.
Annual sales at the 118-year old automaker though have been already above that mark for three decades.
Only 92 other publicly traded companies are in the $100 billion club, and even fewer — just CVS Health, Walmart and Anthem — currently trade at a valuation below their sales.
With $135 billion in sales over the past year, Ford still has a ways to go before attaining a price-to-sales ratio of one.
By comparison, the average $100 billion company trades for seven times its sales, led by Nvidia, which currently trades for 27-times last year's revenue, according to data compiled by Bloomberg.
Newcomer Rivian Automotive, is now valued at roughly $75 billion despite generating only about $1 million in sales.
Walgreens, CVS Shut Some Pharmacies on Weekends as Omicron Strains Staffing – Wall Street Journal, 1/14/2022
The biggest U.S. drugstore chains are shutting some pharmacies on weekends as the spread of Covid-19 and the Omicron variant exacerbates already severe staffing shortages.
CVS Health and Walgreens Boots Alliance said weekend shutdowns are unusual but become a reality when locations lack enough pharmacists and technicians to remain open.
Supermarkets and U.S. retailers such as Macy's and Walmart are also shortening hours as throngs of American workers stay home because they are sick, awaiting test results or caring for others with the virus.
Walgreens and CVS said they are unable to quantify weekend closures, which fluctuate each week and sometimes occur without much notice.
In places such as Washington, D.C., New Gloucester, Maine, and New Paltz, N.Y., customers have said they unexpectedly encountered closed drive-throughs and pharmacy counters in recent weeks. In some cases, people showed up for scheduled Covid-19 vaccine appointments only to find the pharmacy closed.
Exclusive: Tesla delays initial production of Cybertruck to early 2023 – source – Reuters, 1/14/2022
Tesla aims to start initial production of its much-anticipated Cybertruck by the end of the first quarter of 2023, pushing back its plan to begin production late this year, a person familiar with the matter told Reuters on Thursday.
The person said the delay comes as Tesla is changing features and functions of the electric pickup to make a compelling product as competition heats up in the segment.
Tesla is expected to make limited production of the Cybertruck in the first quarter of 2023 before increasing output, the source said.
CEO Elon Musk, who unveiled the futuristic vehicle in 2019, had already delayed its production from late 2021 to late 2022.
US ECONOMY & POLITICS
U.S. Retail Sales Slide Most in 10 Months on Inflation, Omicron – Bloomberg, 1/14/2022
U.S. retail sales slumped in December by the most in 10 months, suggesting the fastest inflation in decades is taking a greater toll on consumers just as the nation confronts more coronavirus infections.
The value of overall purchases decreased 1.9%, after a revised 0.2% gain a month earlier, Commerce Department figures showed Friday.
The figures aren't adjusted for inflation, suggesting price-adjusted receipts were even weaker than the headline number.
Ten of the 13 retail categories showed declines in receipts last month, led by non-store retailers, which includes e-commerce.
Those sales plummeted 8.7% from a month earlier.
Department-store receipts decreased 7% after a 5.5% drop in November.
Sales at furniture stores, electronics outlets and sporting goods establishments also fell.
Receipts at restaurants and bars, the report's only services-oriented category and a sign of omicron's early impact, dropped 0.8% after rising the prior month.
So-called control group sales — which are used to calculate gross domestic product and exclude food services, auto dealers, building materials stores and gasoline stations — fell 3.1% in December from a month earlier, the most since February.
U.S. Factory Output Posts Surprise Drop on Short Supplies, Labor – Bloomberg, 1/14/2022
Growth in U.S. factory output unexpectedly declined in December, indicating a surge in Covid-19 infections exacerbated manufacturers' ongoing struggles with material and labor shortages.
The 0.3% decrease followed a revised 0.6% gain in November, Federal Reserve data showed Friday.
Total industrial production, which also includes mining and utility output, fell 0.1% in December.
In the year through December, factory production was up 3.5% while total industrial output climbed 3.7%.
The Fed's report showed capacity utilization at factories fell in December to 77%, the first decline in three months.
Total industrial capacity also eased to 76.5%.
Consumer Sentiment in U.S. Drops on Inflation, Omicron Fears – Bloomberg, 1/14/2022
U.S. consumer sentiment declined in early January by more than forecast amid mounting concerns about soaring inflation and the fast-spreading omicron variant.
The University of Michigan's preliminary sentiment index fell to 68.8 from 70.6 in December, the second-lowest in a decade, data released Friday showed. The figure trailed the median estimate of 70 in a Bloomberg survey of economists.
Americans expect inflation to rise 4.9% over the next year, matching the highest since 2008, the Michigan report showed.
They expect prices will rise at an annual rate of 3.1% over the next five to 10 years, the most since 2011.
When asked about their finances, 33% reported being worse off than a year ago, just above the April 2020 shutdown level of 32%. It's even starker among cash-strapped families: twice as many households with incomes in the bottom third as in the top third reported worsening finances, the report said.
The gauge of current conditions fell to 73.2, the lowest since 2011, while a measure of future expectations declined to 65.9, the survey showed.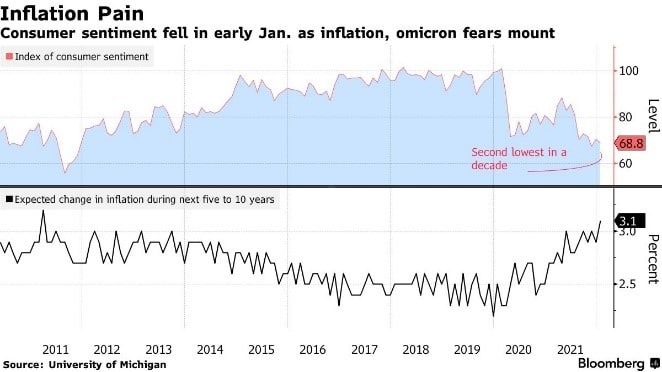 U.S. import prices fall in December on petroleum products – Reuters, 1/14/2022
U.S. import prices unexpectedly fell in December amid a decline in the cost of petroleum products, adding to signs that the worst of high inflation was probably over.
Import prices dropped 0.2% last month, the first decrease since August, after increasing 0.7% in November, the Labor Department said on Friday. In the 12 months through December, prices rose 10.4% after advancing 11.7% in November.
Imported fuel prices declined 6.5% last month after rising 2.3% in November.
Petroleum prices fell 6.0%, while the cost of imported food increased 0.5%.
Excluding fuel and food, import prices rose 0.5%. These so-called core import prices advanced 0.6% in November. They increased 5.7% on a year-on-year basis in December.
The report also showed export prices tumbled 1.8% in December after rising 0.8% in November. Prices for agricultural exports rose 0.8%. Nonagricultural export prices dropped 2.1%.
Export prices increased 14.7% year-on-year in December. That followed a 18.2% annual surge in November.
Automobiles boost U.S. business inventories in November – Reuters, 1/14/2022
U.S. businesses maintained a strong pace of inventory accumulation in November, with motor vehicle stocks rebounding a bit more than initially thought, suggesting the worst of global supply chain problems was likely behind.
Business inventories rose 1.3% after a similar gain in October, the Commerce Department said on Friday.
Inventories are a key component of gross domestic product. November's increase was in line with economists' expectations.
Inventories increased 8.7% on a year-on-year basis in November.
Retail inventories accelerated 2.0% in November as estimated in an advance report published last month.
That followed a 0.3% rise in October. Motor vehicle inventories rebounded 4.2% instead of 4.1% as estimated last month.
Retail inventories excluding autos, which go into the calculation of GDP, shot up 1.3% as estimated last month.
Business sales increased 0.7% in November after rising 2.2% in October.
At November's sales pace, it would take 1.25 months for businesses to clear shelves, up from 1.24 months in October.
Biden Dealt Setback on Elections Bill, Filibuster – Wall Street Journal, 1/14/2022
President Biden expressed doubts that Democrats would pass their elections legislation, bowing to political realities that left party leaders shy of any path forward in the Senate, just two days after he cited a grave threat to democracy in imploring lawmakers to approve the measure.
"The honest-to-God answer is I don't know if we can get this done," Mr. Biden told reporters Thursday after a closed-door lunch with the Senate Democratic caucus.
He said he still had hope for what the party had dubbed its top priority but added, "One thing for certain: Like every other major civil rights bill that came along, if we miss the first time, we can come back and try the second time."
Shortly before Mr. Biden's scheduled lunch with Democrats, Sen. Kyrsten Sinema (D., Ariz.) took to the Senate floor to reiterate that she wouldn't support rules changes that get rid of the Senate's 60-vote threshold. Changing filibuster rules would require the support of all Democrats.
Sen. Joe Manchin (D., W.Va.) later reiterated his own opposition to eliminating the filibuster. Democrats had pinned their chances on changing the senators' minds, but the statements extinguished those slim hopes.
Democrats Explore Changes for Child Tax Credit to Win Manchin's Favor – Wall Street Journal, 1/14/2022
Some Democrats have started exploring how to pare back their proposed expansion of the child tax credit in ways that are aimed at winning the critical support of Sen. Joe Manchin (D., W.Va.), according to people familiar with the matter.
Among the possibilities: Reducing the size of the credit's expansion and limiting which Americans are eligible for it, according to the people.
Now, as part of an early effort to revive the credit and the broader package known as Build Back Better, some Democrats are considering increasing the size of the credit above $2,000, but keeping it below $3,000, as well as offering the expanded credit to a smaller number of households, according to the people.
The goal for these Democrats is to slim down the credit enough so that they can afford to fund it permanently, a key demand for Mr. Manchin, while still spending money on other priorities in a roughly $1.8 trillion package, according to the people.
Exclusive: U.S. bill would block defense contractors from using Chinese rare earths – Reuters, 1/14/2022
A bipartisan piece of legislation to be introduced in the U.S. Senate on Friday would force defense contractors to stop buying rare earths from China by 2026 and use the Pentagon to create a permanent stockpile of the strategic minerals.
The bill, sponsored by Senators Tom Cotton, an Arkansas Republican, and Mark Kelly, an Arizona Democrat, is the latest in a string of U.S. legislation seeking to thwart China's near control over the sector.
It essentially uses the Pentagon's purchase of billions of dollars worth of fighter jets, missiles and other weapons as leverage to require contractors to stop relying on China and, by extension, support the revival of U.S. rare earths production.
U.S. Will Spend $27 Billion to Repair Bridges – Wall Street Journal, 1/14/2022
The Biden administration on Friday announced more than $27 billion in spending over the next five years to repair dilapidated bridges across the country, including full funding for structures that aren't part of the federal highway system.
State and local governments generally have to kick in up to 20% of the costs of bridge work to win federal funding. Administration officials said Thursday they are removing that requirement for bridges not connected to the federal highway system.
The White House estimates the five-year funding could improve 15,000 highway bridges across the country. Under the funding plan, states and tribal governments will be awarded $5.4 billion in the current fiscal year, administration officials said.
There are more than 45,000 bridges in poor condition nationwide, according to the Transportation Department's 2020 National Bridge Inventory. Any bridge on the inventory is eligible for part of the $27 billion, officials said.
EUROPE & WORLD
Germany's economy hit the brakes at the end of last year as the export powerhouse was slammed by global supply-chain bottlenecks, surging material prices and weakness in its biggest trading partner, China.
Germany's economy probably shrank by between 0.5% and 1% quarter-on-quarter in the September to December quarter, the federal statistics agency said at a news conference on Friday.
Germany is the first major economy to give a preliminary estimate of its 2021 gross domestic product.
For 2021 as a whole, German GDP grew by about 2.7% year-over-year, leaving it 2% below its 2019 level.
That compares with estimated growth of 5% for the wider eurozone and 5.8% for the U.S. last year, the agency said.
At a news conference on Friday, Georg Thiel, president of the German federal statistics agency, blamed the lackluster recovery on social restrictions aimed at containing the virus, which held back consumer spending, as well as delivery bottlenecks and material shortages.
As diplomats were holding negotiations over the Ukraine crisis this week, Russia began moving tanks, infantry fighting vehicles, rocket launchers and other military equipment westward from their bases in its Far East, according to U.S. officials and social-media reports.
While the equipment is still in transit, officials and analysts are debating whether it represents the next phase in the Kremlin's buildup that has already placed more than 100,000 troops near its country's border with Ukraine.
Some other officials and analysts suspect, however, that Russian President Vladimir Putin is using the new military movements to pursue a strategy of keeping the West guessing about what he will do next, while simultaneously building negotiating leverage.
If deployed near Ukraine, the officials and analysts said, the new materiel would reinforce the Kremlin's options to use force—from large incursions to pinprick attacks—to try to weaken the pro-Western government in Kyiv, increase Russia's control in eastern Ukraine, batter the country's economy and prevent it from joining the North Atlantic Treaty Organization.
Shipping group Maersk on Friday posted better than expected fourth-quarter revenue and earnings, fueled by record freight rates for container shipping.
A fall in ocean-going container volumes by 4% in the last three months of the year was more than offset by freight rates improving 80% compared with a year earlier.
Revenue stood at $18.5 billion, against $17.5 billion expected by analysts.
Underlying earnings before interest, tax, depreciation and amortization (EBITDA) totaled $8 billion, above guidance given by the company in November and the $7 billion expected by analysts in a Refinitiv poll.
China posted a record trade surplus in December and in 2021, as exports outperformed expectations during a global pandemic, but some analysts pointed to a slowdown in international shipments in the coming months.
The trade surplus hit $676.43 billion in 2021, the highest since records started in 1950, up from $523.99 bln in 2020, according to data from the statistics bureau.
The trade surplus rose to $94.46 billion in December, the highest since records started in August 1994. That was up sharply from a $71.72 billion surplus in November and above a forecast for a $74.50 billion surplus in a Reuters poll.
Exports increased 20.9% year-on-year last month, beating expectations for a 20% rise, but down from a 22% gain in November.
Imports rose 19.5% year-on-year in December, the customs data showed, missing a forecast for a 26.3% rise and down sharply from a 31.7% gain in November.
The United States ratified treaty with England ending the Revolutionary War. (1784)
President Roosevelt and Prime Minister Churchill meet at the Casablanca Conference. (1943)
George Wallace sworn in as Alabama's governor, promising "segregation forever." (1963)
The Simpsons premiered on television. (1990)
Content in this material is for general information only and not intended to provide specific advice or recommendations for any individual. Historical performance is no guarantee of future results. All indices are unmanaged and may not be invested into directly. All investing involves risk including loss of principal. No strategy assures success or protects against loss. Any economic forecasts set forth may not develop as predicted. All company names noted herein are for educational purposes only and not an indication of trading intent or a solicitation of their products or services. Material presented is excerpts derived from third party content and you may need a subscription to access the full the content. The views and opinions expressed are those of the authors and do not necessarily reflect the views of Pence Wealth Management or LPL Financial. Prior to making any investment decision please consult your financial advisor regarding your specific situation.